We have finally cut the umbilical cord that we have been attached to for the past three months and left the bosom of Tauranga Bay Camp. It was a difficult departure leaving the beautiful camp but adventures don't occur unless one moves on.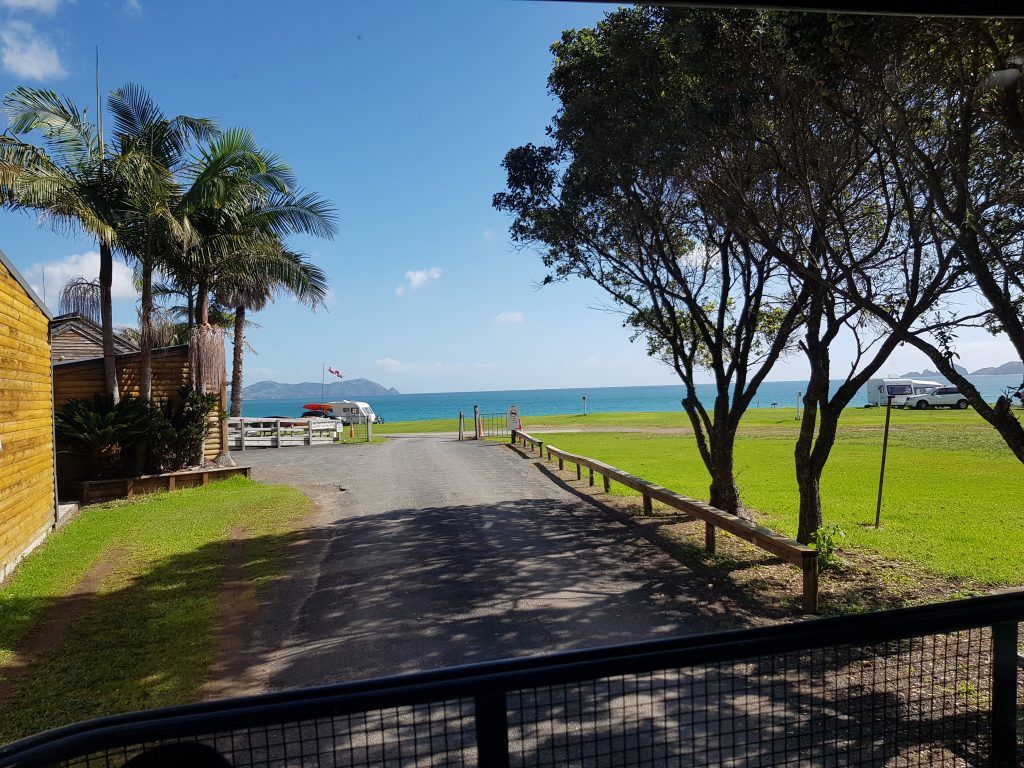 Let's review the amazing time we had while there, beyond the amazing people we met.

The camp is stunningly situated amidst soaring cliffs, with surf beating almost to our door, the sun, the warm sand and our amazing hosts Leah and Harry.

Harry likes to show his grumpy curmudgeonly side but he is a great guy once you get past that……Leah is a gust of fresh air and one of the most approachable camp hosts we have met.

I guess that was why I offered the services of my man to help Harry put up his electronic gate, which was working well when we left.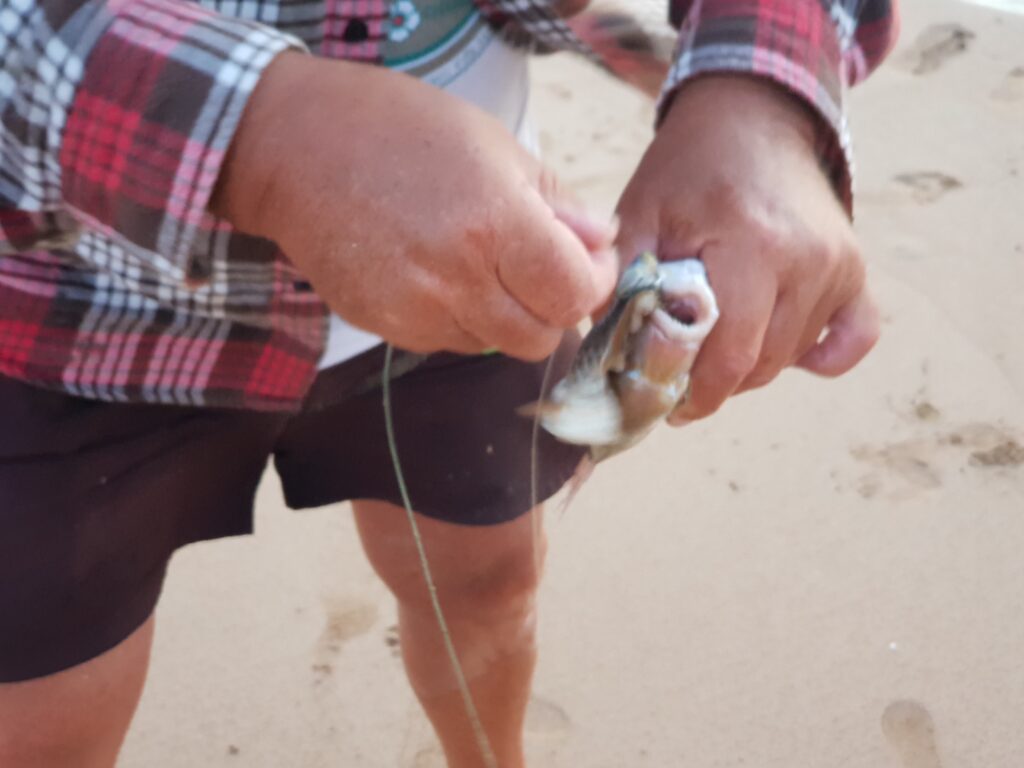 The fishing has been hit and miss according to my fisherman with fickle winds making kite fishing an issue; but thanks to the kindness of other campers and a couple of good casts we have had fresh snapper and even a crayfish thanks to the navy divers mentioned in our previous posts.
Some of the unusual activities was my two winter swims; everyone who knows me well know I don't usually swim even in our own pool let alone the sea. So I did the two swims for two reasons; the first was to acknowledge my 65th birthday and the other was a mid-winter swim. To be fair; the temperature was tolerable although on one of the occasions I had to repeat as the 'videographer' didn't quite capture the moment.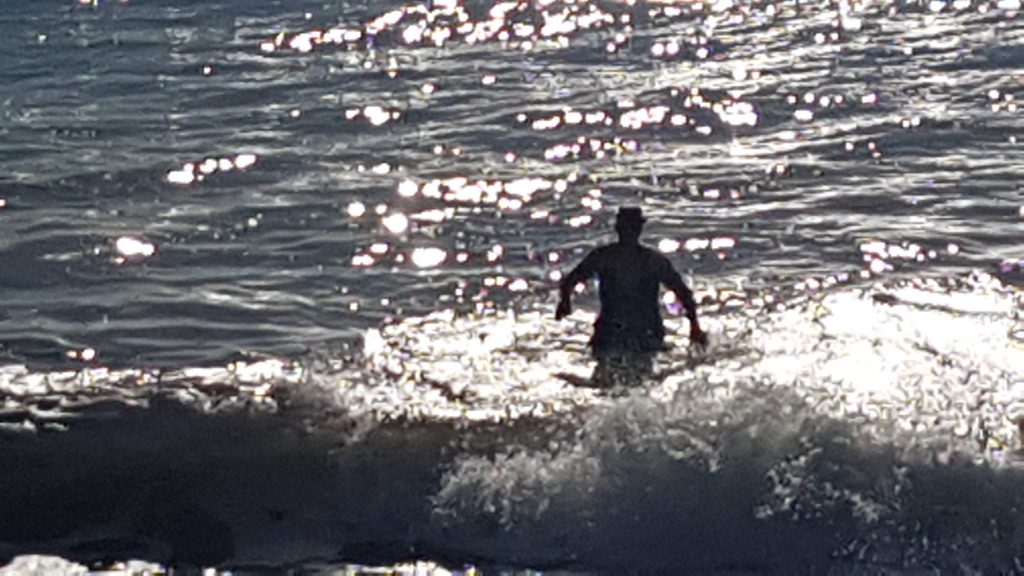 While they were in camp I had a message from Chris; an ex-RAF/RNZAF photographer who had succumbed to the dark side and become Navy, he was coming up to do a photo series while they were at Tauranga Bay.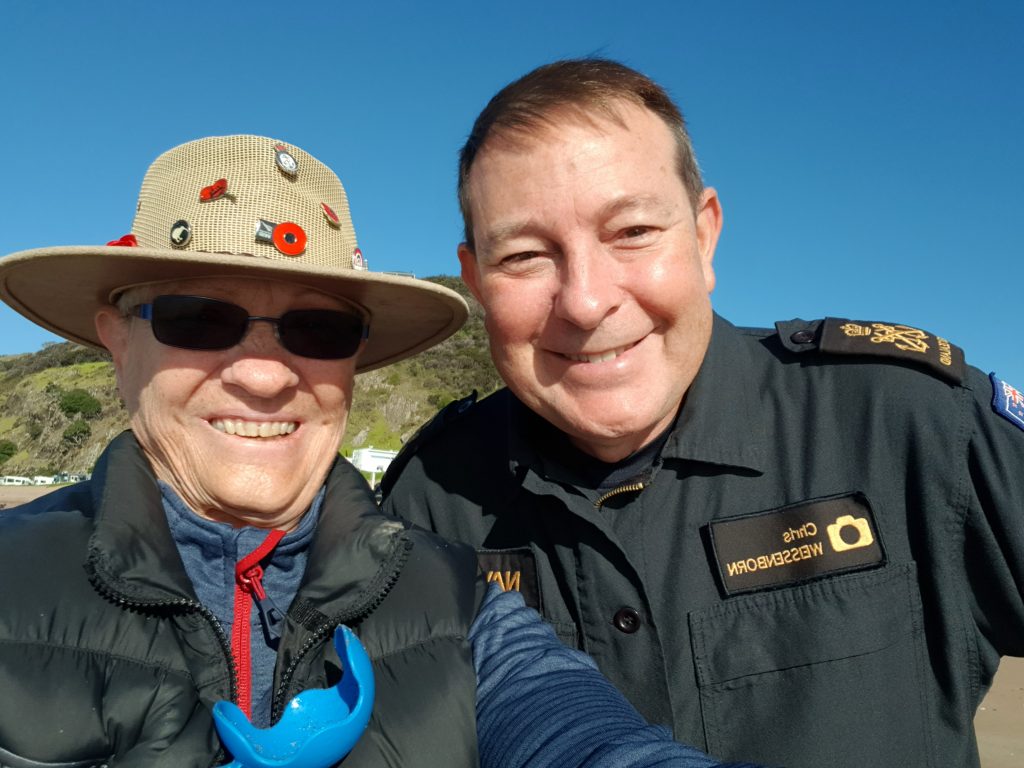 It was such a pleasure to catch up as I hadn't seen Chris for years!! It was wonderful to catch up with people old and new and renew those relationships!!

Speaking of meeting people; that is one of the great advantages to being on the road, having neighbours you like and get on with is great!! During our time at Tauranga Bay we met several couples worth a mention!!

Glen and Lana noticed the Navy plate surround on our vehicle and asked Rod if he knew Chuck; a Chief Medical Petty Office around the time Rod served. He said no, but I might know him which I did. We met up and enjoyed each other's company including a happy hour. Sadly they were only here for a couple of days but we intend to catch up at some later stage.

Other neighbours we enjoyed were Jenny, Evan and dog Cole. Evan was one of the keenest fisherman, with his line in the water most morning and throughout the day.
Jenny and I shared a similar sense of humour discovered as we watched Rod play ball on the beach with Mac and Cole. Cole does not fetch the ball and it is a chase and battle to get it back. Watching Rod dive into the sand again and again left us in stitches.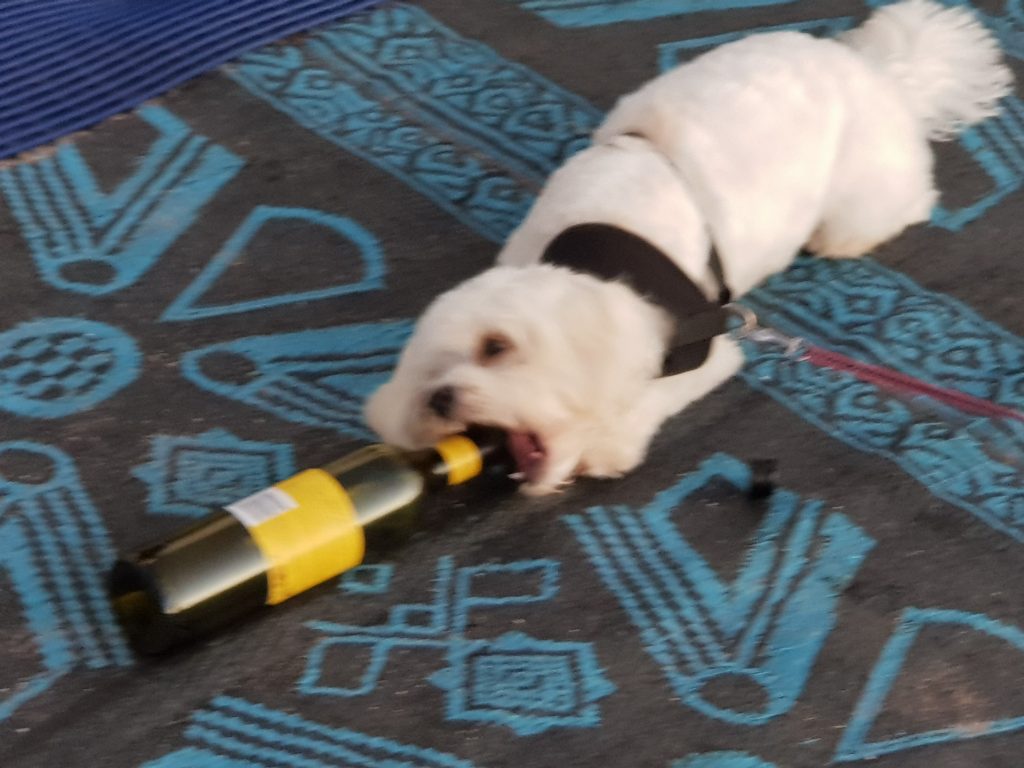 Next to them was Nigel and Florence with their dog Duchess. Duchess was a cute 8 month old who loved nothing better than to play with wine and beer bottles; not sure if Duchess had an alcohol problem lol,.
On our other side was Lynn, Eddie and Mailie. Again a sense of humour shared is a must when travelling and many a laugh was shared over incidents in the camp.

Anyway, it was sad to leave our new friends but again, adventures await!!

We left Tauranga Bay and navigated our way through a tight 90 degree bridge access on both sides with very little maneuverability on either side. It was slow coming in but slower coming out; in fact there were several people who thought it nigh on impossible. Rod handled it like a pro!!

Due to the heavy rain over 24 hrs I had thought it best to contact the camp at Houhora to ensure the ground would be suitable. This followed the email advising them the size, weight etc earlier in the month.

It was an uneventful trip northwards and we arrived at Hourhora mid-afternoon. We checked in and were given a site. Navigating under the huge macrocarpa tree was interesting enough but trying to negotiate the space without slipping in the wet resulted in my return to the camp office.

A conversation with Ted the manager gave us a more suitable drier spot and we camped up. A walk around showed that access to the beach for the dogs was difficult but Rod found a small beach for the dogs to play on and they do that most mornings. The camp has a more rural feel as it is located in the estuary.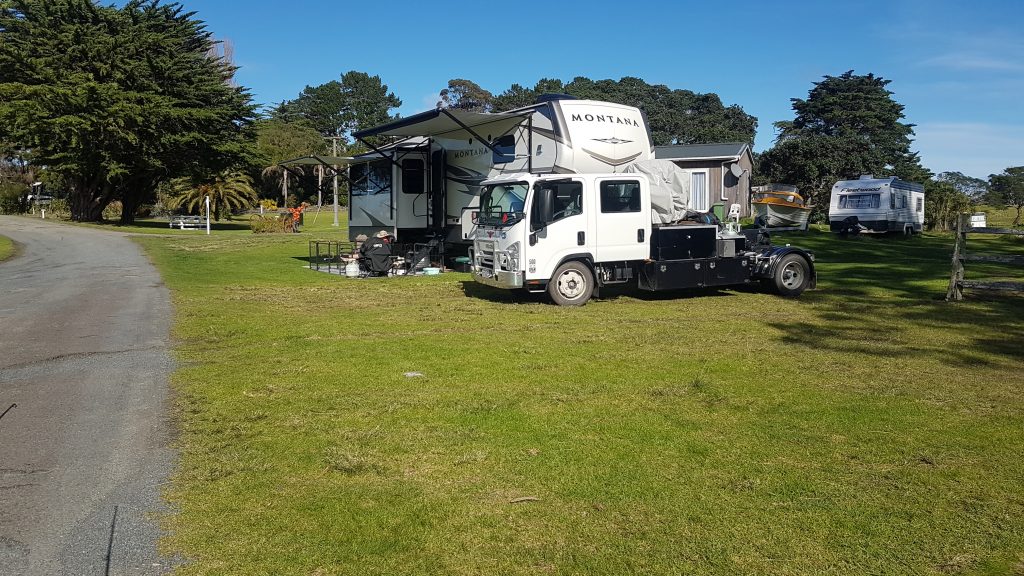 I walk them around the boat ramp and the camp and we do a sneaky ball play behind us as there are no other campers within cooee. One of the nice aspects is the lack of sand being walked in on canine paws!!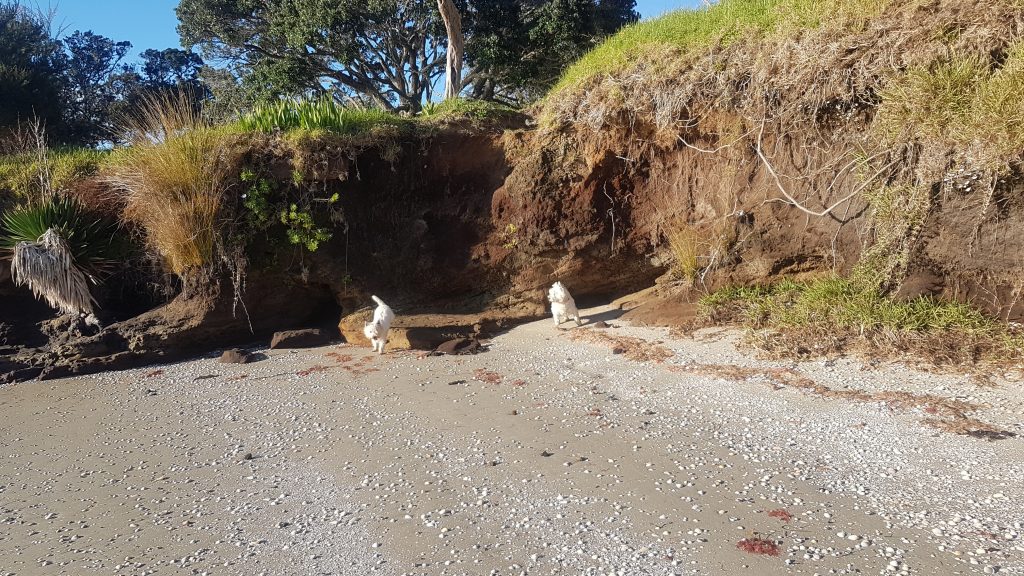 We have had dinner twice at the Pukenui Pacific; the first night we were invited by the locals to join them and the food was absolutely delicious!! The second time we dined was because we were told we had to come for the curry night…..I admit was worth it but the size of the entree meant I didn't eat all my dinner………..leftovers tonight!!
Took a drive to a local beach to check out the suitability for surf casting but there was a sign stating it was a private road and after checking it out online we decided not to travel up it as there is conflict between the council and locals over it's use………………… so Rod has yet to really get his line in the water so can't comment on the fishing at this time…………….watch this space!!