I have to confess that it is a wonderful feeling of freedom to be on the road again. We spent a longer time in Pukekohe than we originally anticipated, replacing our braking system after having issues getting our COF and also hitting the 3x and 7 x day Covid lockdowns. A plus was finally getting our driver licenses renewed, seeing our GP and completing my superannuation application.

Some frustrations regarding clear boundaries while in Pukekohe while under the lockdowns, (not ours but the A & P Organisation) added to our frustrations as we still had issues with one brake (redone by Rod with support from Rose) and then had to wait an extra week before retesting as our tester at CTM was away.
Around this time we had visits from Emma who stayed for the day and what a wonderful day it was, few days later Allan and Donna (who live in Waiuku) popped in to see if we were still in the area.
We decided that we would spend the last week at the Waiuku Cosmopolitan Club which was such a great decision. It meant we were closer to Donna and Allan and felt more relaxed (no issues with camp politics). We enjoyed the week having a few drinks and meals at the 'Cossie" Club and were invited to Donna and Allan's home for a roast dinner which was a welcome change. They kept an eye on us , visiting most days and it made us feel welcome and supported. We loved the food, staff and atmosphere at the club so much that we thought it would be rude not to sign up so we joined.
Donna was also a wealth of support in her role of veterinary nurse and it was her input that enabled us to figure out why Mac and Rose would occasionally go off their food if we added mutton flap (too rich for them, might cause pancreatitis). Thanks Donna, no further issues and they are both eating well and less reflux.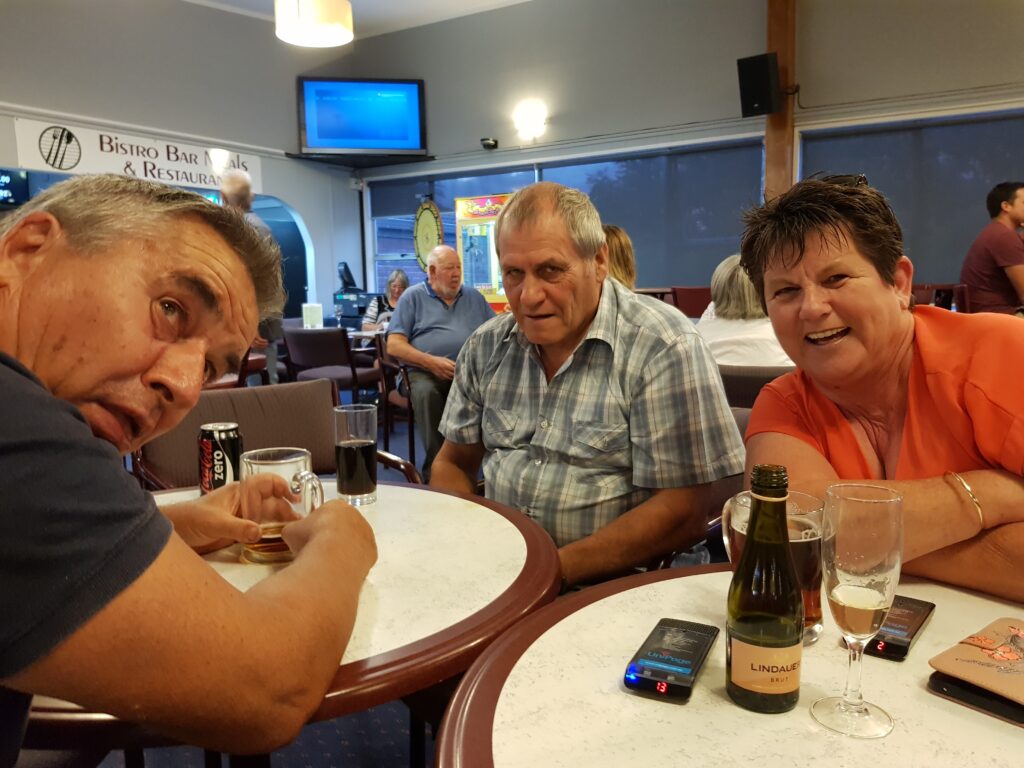 Loved having the 'steam' train arriving at the station behind us on the weekend, although it was pulled by a diesel locomotive following a bush fire triggered by the steam engine. Just an awesome place, AND a big plus was no rabbits!!

I gotta say that the continual packing/unpacking was stressful (reminded me too much of the stress of getting certified when Dogonit arrived in NZ). The packing up only to go to be tested and having to be at CTM both times at 8:00 a.m. along with the extra stress of waiting to see if we passed….whew lol!! The tester was, how shall I describe him …….. pedantic lol but it is the brakes so very important (we had to remove the sensor brake dongle to 'please' him following a lengthy discussion between the auto-electrician and the tester regarding the legality of having it accessible while driving. It is annoying that Dogonit is tested as a commercial trailer (something to do with the placement of the axles) adding to the difficulty of testing.

The next thing I knew we had passed!!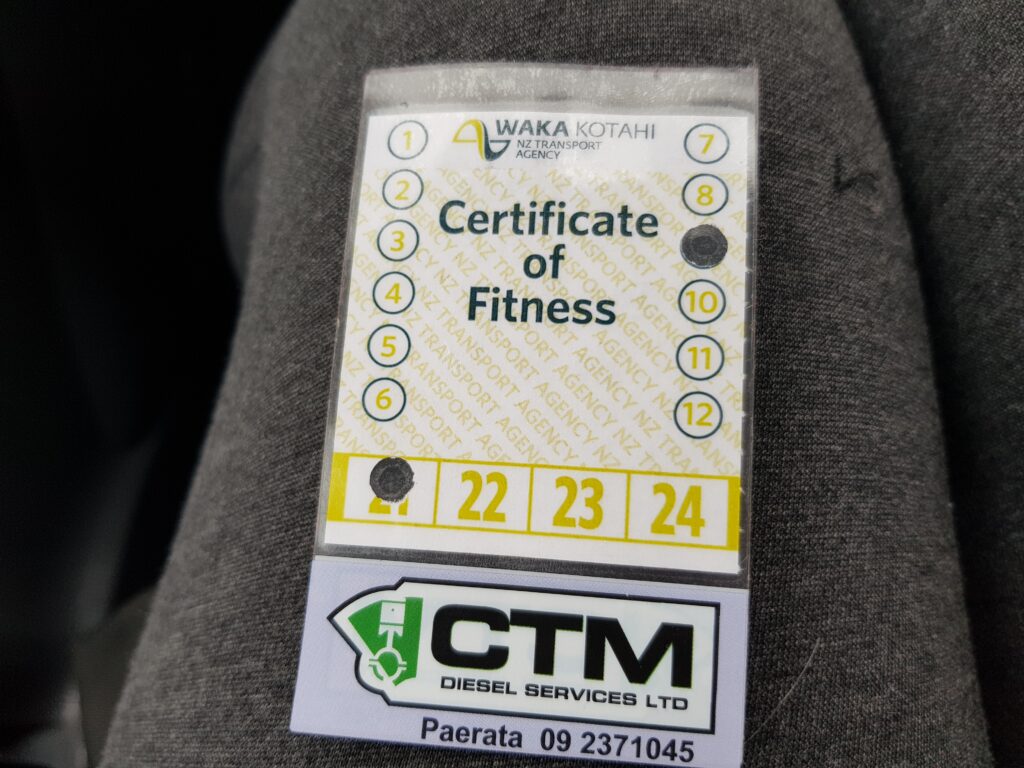 Following completrion of the paperwork we were ON the road!! We decided we would continue travelling through Auckland; making the decision of how far we would travel to how Rod was feeling. We ended up at our destination in Ruakaka; staying with new RV mates we met in New Plymouth, Greg and Brendan, who had invited us to stay when we were heading north and they have made us feel very welcome.
They had plans for Easter so we have had their lifestyle block mostly to ourselves with them omly coming home for short periods most days. The dogs have LOVED it!! Lots of cow poo to roll in and nooks and crannies to investigate. Although they have had their bath/shower they still remain slightly sticky as they have been racing through the Paspalum grass which leaves a sticky resin as you walk through it.
Oh come on Poppy I only had a bath yesterday and it was only a little poo I rolled in…..

we had an afternoon in Ruakaka, doing a dump, filling up with fuel and attempting to fill our gas bottles. Speaking of which; we drove in, Rod undid the straps holding the gas bottles and lifted them down off the truck and then waited. It was a few minutes before the guy running the station opened the window and shouted out, "no gas today"…..not helpful!!!
Visited other RV friends; Allan and Marnie who live in Ruakaka who had other visitors, daughter Ngaire and son-in-law Glen (Rod knows Glen from his Sky City days). It was a relaxed, pleasant visit until I could hear Rose barking vociferously in the back garden of their fully fenced section. I went round the back to see her barking at a feijoa tree before I spotted Mac in the tree. He lunged forward then pulled back and out of the tree came animal with fur flying. I initially thought it was a cat as it rolled on it's side with it's back facing me. It sat up and lo and behold our boy had got himself a possum. The possum appeared stunned, breathing rapidly and by this time I had two Westies on either side of the animal and I was concerned about the possum attacking one of them (they have lethal claws). I bellowed for Rod after telling Mac and Rose to wait and he eventually arrived as the possum decided to head back in the feijoa tree abutting the fence. We couldn't see it so we left it alone not wanting to raise it's aggression levels.
We went home to finish chores and it was later that evening that we received a txt from Allan informing us that the possum finally came out of the tree, staggered around and died in their garden.
No autopsy was completed so cause of death undetermined, might have been death by Mac or old age…..who knows!!!
Today we took a drive to Whangarei to look for a small shelf to put beside the table to use for the dog's toys, outdoor shoes etc. Rod had to make an adjustment but it fits really well. We also had to find a replacement ottoman as the one we bought off Rebecca (our house-sitter) died. One of the legs broke off (not really designed as a step I guess) and the base was too fragile to reuse the wood so sadly I won't be using the new one as a step up to the cupboards above the sofa, Also had to re-purpose the furry cover for the new ottoman so that it wouldn't be scratched up by Mac and Rose. So a solid day of chores and a great feeling of achievement.

Some drama late this afternoon as Mac attempted to top his hedgehog moment from earlier as he 'found' a wasp nest and Poppy had to remove them from his fur. Following first aid from Nanny; an ice pack and a baking soda paste later, we headed over for pizza with the boys; Greg and Brendan who hosted us for the evening.
There were some issues with Brendan's chair……………………………………….some of those damned folding chairs can be temperamental; before we sat down to enjoy home-made pizzas.
I gotta say the food was amazing, thanks to Greg who made the pizza bases and the conversation stimulating to say the least; just what I needed in my life another Rodney; Greg has the same 'wit' and humour.
Seriously, a wonderful evening ending in the annihilation of the wasp nest the boys had been looking for…………………………………….thanks Mac!!