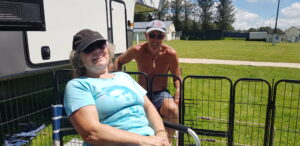 New Year's Eve didn't go with a traditional bang; no late night staying up past midnight but a treat anyway with the arrival of the Alexanders. Wade and Trish arrived in Stratford for a four day stay on Dogonit. Time to laugh, enjoy long-standing relationships that have melded into family, have a few wines and enjoy great food. The Christmas Elf was blindfolded for his own mental health and debriefed each morning and even the Christmas bear took to drinking during their stay.
Mac loves having visitors and although Wade and Trish took over the couch they had plenty of room to share as it stayed in it's bed format rather than the couch. Mac knows how well Wade throws the ball and so he spent his time luring him to the dark side to play. Trish was more of a challenge and did not succumb so well to his entreaties.
Our last night was spent at Colonel Malones in Stratford for absolutely great food and service; definitely a place to return to!!
It was a wonderfully relaxing time in the warm embrace of Mt Taranaki and so sad to say goodbye and watch them drive away…………………until the next time!!
The day after their departure we packed up and rumbled down the road towards Bell Block for a stay at the NZMCA park. We parked up and set up and explored the dog run although for some reason neither Rose nor Mac seem to enjoy spending time in this run, choosing to pee outside if there is time before I get the gate open. Not sure why as they have not seemed to have a problem with the other camp dog runs.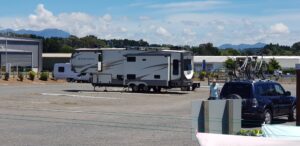 The following morning, we were joined by another big rig and we met up with fellow travellers Greg and Brendan who have a Rockwood caravan. They are ex-Aucklanders who now live up north in Ruakaka on a lifestyle block.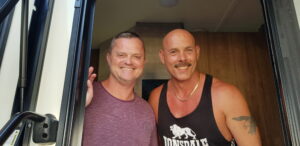 Mid-morning we set off on our bikes with Dogonit II in-tow to explore the bike trails along the waterfront. What a great experience it was too; although the tracks were really busy with other cyclists, walkers, scooterists, runners, skateboarders etc. Most of the people were respectful of each other's space with Rod warning them of traffic on their left while I (as his wing person) would say thank you and have a great day and they all responded with a smile, particularly when they noticed the occupants of the cart.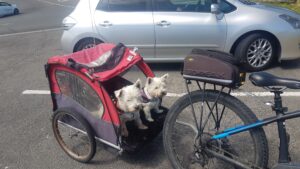 We biked from Bell Block all the way to Paritutu Rock which is awe-inspiring when looking up from the bottom. It was then that I noticed some adrenaline junkies climbing to the top; not sure when they are due for mental health assessments, I mean who does that, really? Rod really enjoyed pointing out places of interest from his childhood visits.

We travelled partway back on the road cycle path before cutting back across the train tracks. It seems that we have yet to find a place that has wide enough gates for a cycle and carriage in New Zealand which must make it difficult for families to enjoy cycling while their children are too young to cycle alone.
We stopped for slushies; berry (and gin) for Rod, mango (and vodka) for me………I mean why not? Legal age and all that and only the one.
On our trip we found the fat-bottomed girls so it was rude for me not to join them for a photo shoot.
Oh, and don't let me forget the key………………..we lost the truck keys and fob in Havelock North; Rod had been out in the truck and gone over the see Bruce and the keys were misplaced in a 20 mtr radius. We did a comprehensive search before deciding on spending $150 to have a new key cut and maybe the key might turn up one day. Well the day arrived!! Rod was getting the bike gear out of the bag (which we had been in several times since leaving Havelock North) and there they were nestled in the bottom of the bag. Great find!!!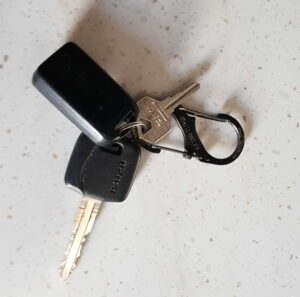 We met up with Greg and Brendan on our return and so invited them for happy hour and that lasted well over the traditional hour although the boys stuck to water. The evening ended with them going off to watch the Lighting Show in Pukekura Park while we relaxed before heading to bed.
It was a good thing we did our ride yesterday as the fine weather has packed up and moved on leaving Mt Taranaki clothed in her sombre clouds, hiding her beautiful form. She is a beautiful mountain and I love waking to say good morning. We are expecting thunder storms this afternoon so have decided on a quiet day and will shop when we go out tomorrow; heading to Okato to visit other friends; Karen and Graeme.
Busy day today which started with a farewell to Greg and Brendan who left the park to travel to Whanganui….it's great to meet people you enjoy their company and can talk about almost anything, politics, kids of today etc…………stayed away from religion.
We then did a short trip to Okato and boy was it great to meet up with old friends Karen and Graeme; ex-Air Force. It seemed like no time had passed since we last caught up and then I realised that I had left my civilian Air Force role in 2008 so a lot of water under the bridge.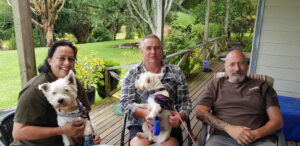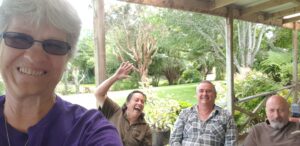 We fell in love with their beautiful Rottweiler and even Mac played with her after the usual I'm the boss of you toing and froing. We made the decision to move to the Okato Domain on Sunday after checking out the location…..perfect!!!