We left Ruakaka feeling buoyant as we headed towards Paihia and the start of our winter adventure.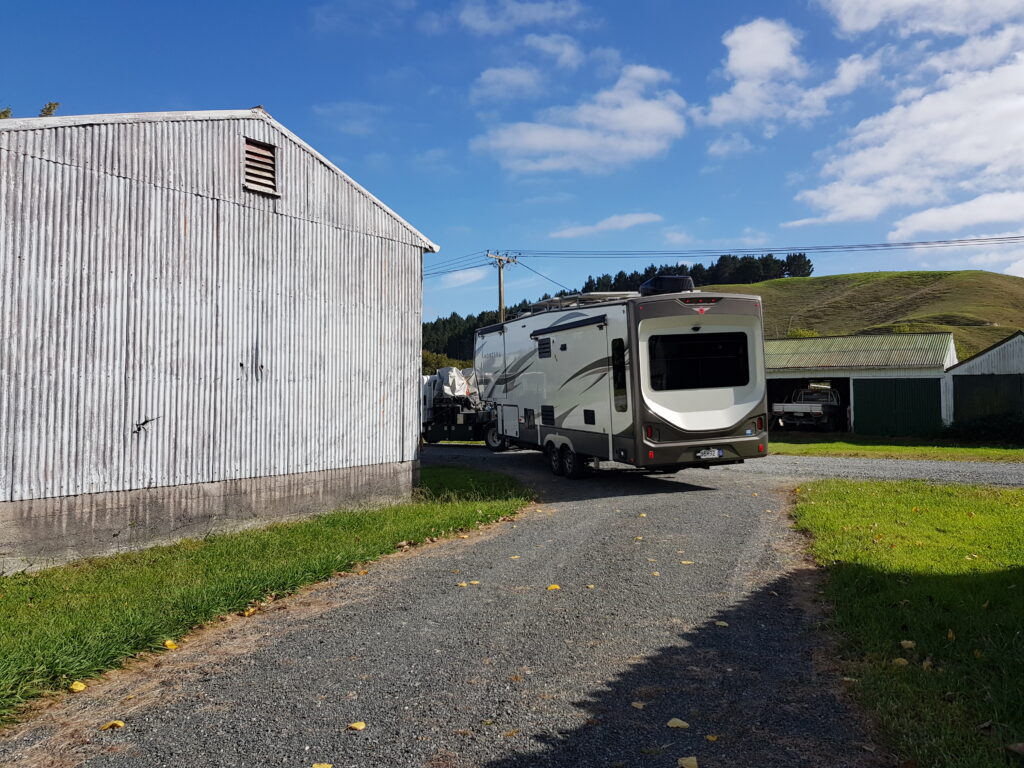 A few kilometers from Towai we heard a significant thump!! the engine sounding like it does when there is a hole in the muffler and we lost power. A light came on the dashboard so we found a place outside the Towai Pub and had a look at the engine but nothing looked out of place. The light went out when Rod started the engine so off we went only to find the same light plus one other came on a few minutes later.

We crawled up a hill and found a truck stop so pulled in and called Isuzu as the truck is still under warranty. After some maneuvering between Isuzu outlets we were finally advised that a mechanic was on his way.
He arrived quite promptly and soon had us ready to go. The problem was the turbo inter-cooler intake hose had popped off and we can't thank him and Commercial Diesel Ltd enough their service…………..so impressed that we intend to go see them when out next COF is due!!
The only fly in the ointment was losing a set of 5th Wheel keys which were lost in the excitement of trying to open the engine cover under my seat. But we can always get keys cut………..can't we?

We arrived at Bay of Islands Motor Camp and set up so we had a lovely view of the river. We then spent time relaxing and checking the place out. The staff were very helpful and this always makes a difference.

While there we took a trip to Pahia and Kerikeri to get keys cut and this was an exercise in frustration. The key place in Pahia no longer exists and the the two registered Locksmiths in Kerikeri belong to the same person. I gotta say that although they did eventually manage to cut two keys, the third seems impossible as the blanks were not available.


The only comment I can make about the locksmith is that he was helpful in person but don't expect him to respond to voicemail or messages……….not happening.. All's well that ends well though as Rob (also a Montana owner) has been able to get the key cut for us……………many thanks Rob, appreciate the help.
Speaking of help…………..many thanks also go to Wade for taking care of getting mail to us and to Rebecca for signing a document for us. It would be nigh on impossible to live life on the road while owning a house without their support, especially Wade!!

We spent 6 days at the motorcamp, relaxing, doing washing, checking out the local area before we moved on to Tauranga Bay near the Whangaroa Harbour. Gotta say guys, this is a little peace of paradise.
We were warned that the entry is tight. They weren't kidding, but I had perfect confidence in my Driver who negotiated it like a pro!!

Leah, who manages the holiday park set us up down one end of the camp, right on the bank down to the water's edge.

Mac and Rose LOVE it………………long walks on the beach before breakfast and very little time is spent in the 'pen-itentiary' unless they forget to listen. The camp allows dogs leash-free after January in front of the camp area and dogs of all breeds were enjoying the freedom.

There are however some people who make it obvious that fishermen surfcasting and dogs on the beach are unwelcome. One woman actually commented that dogs were meant to be on leashes and when I suggested that she read the sign before commenting her response was that other dogs were on leashes. She must have been blind; there were dogs on leashes in the camp but very few wore leashes on the beach.
I held my tongue which was difficult; I guess there are 'curtain-twitchers' everywhere (curtain-twitchers are those people that must make negative comments and criticise others). I consider Dogonit compliant in all rules of the road so didn't buy into her negativity.

Each day has been much the same except for meeting different campers; we set up our chairs/table so I can read etc.
Rod sets up his surfcaster to wash his bait, plays with his kite and I am amazed at his patience. He has caught a kawhai or three but it was thanks to very kind and generous neighbours that we enjoyed snapper for dinner last night. They have a boat so went fishing and diving for the day – Rule of the road…………….keep in good with the neighbour who owns a boat.

Today we took a trip to Kerkeri to do a bulk shop, fill up our gas bottles and do a dump (decided it was worth doing so we could fill up with fresh water too). We stopped off on-route at the Kaeo chemist to fill our prescriptions and headed home to relax as it is raining again today.

My birthday and ANZAC Day are looming so we checked the location of the nearest dawn service which was being held in Kaeo. My special-for-real-retired-superannuation birthday arrived in sunshine. I was overwhelmed with lots of messages, calls etc which made me feel treasured!!
I had made a double layer black forest cake which is something I have not bothered doing before but felt it honoured the occasion of receiving my Gold Card and superannuation. Another rare event to help cement the specialness of the occasion was an ocean dip (not a swim as that would have meant longer in the water).
Rod had asked me what I would like for dinner (I thought it was too far to go out for dinner) so he made a fabulous pork belly with lashings of mashed potato, vegetables and gravy. I knew that I wouldn't be able to eat dessert after that so had Bubbles and cake for lunch……well it was my birthday!!
The following morning we travelled to Kaeo for the ANZAC dawn service. It was held outside the memorial hall on the main road at 6:00 a.m. so were surprised by the amount of flow-through traffic and the road noise detracted slightly from the event. We were surprised and touched by how many atttended the early service, the tradition lives on in those to come. We chatted to the locals but didn't stop for coffee, choosing to return home to Dogonit and breakfast.
Have to say that despite the limit of fish we are eating well lol.
I enjoy the sunshine and view most days between chores and it never gets tiring admiring the view. We see lots of boats visiting the bay but the biggest would have to be the HMNZS Aotearoa.
We took our weekly trip to Kerikeri to do a gas refill and groceries but took the scenic route, visiting Matauri Bay along the way. It is exquisitely beautiful but no more beautiful than Tauranga Bay where we are located.
We plan on staying 1-2 months, I mean who wouldn't want to stay in paradise. I also kind of volunteered Rod to help put in an electronic gate at the entrance (with provisos of course, just in case it was outside his pay grade) and this will give him a project to do as well as fishing…….until next time readers, stay safe!!