We have moved on from Friendly Feilding meandering towards Whangaui as we focus on the 'Naki for the next however long (coddiwompling remember?) We have both spend time in Whanganui as kids and have not visited since we were first married and living in Waiouru in the '70s so it was going to be interesting to view it through the jaded eyes of older middle age.
It was only a hop, skip and a few bumps along the way before we pulled up at the Whanganui East Club which we planned on making our home for a week, it can take big rigs and allows for dogs. The other added advantages were the dump station, bar and restaurant on site. We parked up and set Dogonit up before going in to introduce ourselves at the bar, because it would have rude not to. After a drink we booked in for a meal before heading home across the carpark (convenient for reducing drink driving although they do have a courtesy car).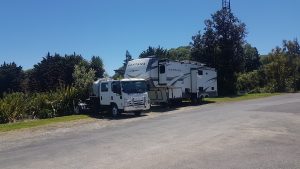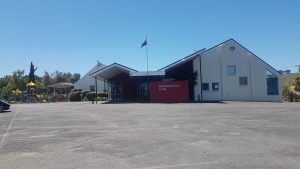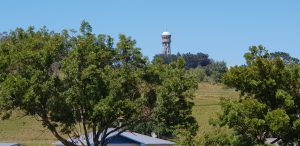 Dinner that night was huuuge roast which was absolutely delicious and cost less than my first born child…….eg not restaurant prices. No room for dessert tonight it was so big!! Following dinner we headed home to the 'kids' and relax for the rest of the evening.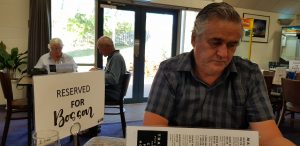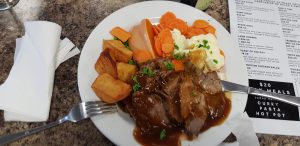 We did a far amount of cycling while in Whanganui, the trails were well set out and traffic manageable and drivers were courteous. We were able to do some Christmas gift shopping and so it was a win/win for ticking off tasks. Loved the river trails, and the scenery was beautiful so well done Whanganui.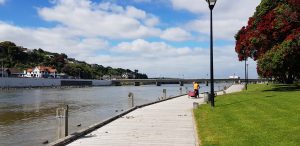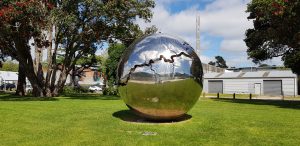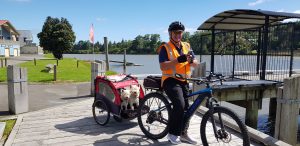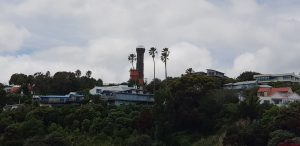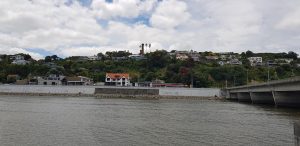 Rod had started doing long walk with Mac and Rose during this time; I think what was a fast pace for him was a marathon for his walking companions and wore poor Rose out as she came back exhausted. The parks were great and easily accessible so they were able to spend time playing with other dogs and chasing the ball.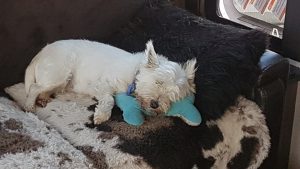 As mentioned, we have both spent time here in Whanganui as kids so it was a treat to return to Kowhai Park to see if it still exists. Not only is it still there but most of the playground activities are still in use. The mountain with tunnels, octopus swings, the castle, Humpty Dumpty, the train, the whale etc…..it was such a blast to know that this equipment has surpassed many, many generations and still be enjoyed. Sorry no photos; I took a video instead, my bad!!
Really enjoyed the yacht racing during this stayover, a 50″ screen made it great viewing…..not bad for a home on wheels!! Go Team New Zealand!! Whoop, whoop!!
We met up with old travelling companions, Steve, Janine and Mulligan II who has grown so much!! They stayed with us for a few days also enjoying the biking etc and we all enjoyed another meal at the club before departing the following day.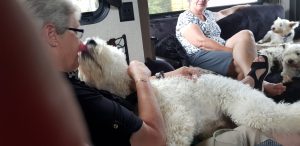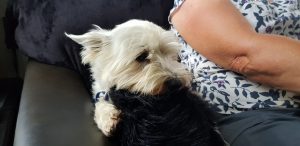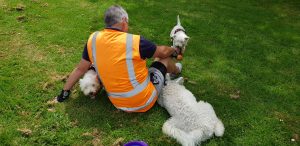 Both of us travelled further into the 'Naki and parked up together at the NZMCA Park in Hawera. A bit of a tight fit in the gate but my driver managed it with style as if he had been driving big rigs for years. Again a dump station on site (yippee) and the town centre within an easy bike ride which we did.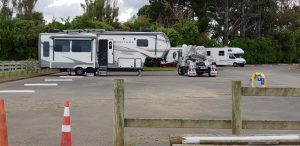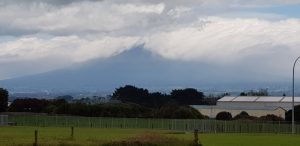 I must say everywhere we go the locals seem taken with the dogs in the carts and make a fuss of Mac and Rose but Hawera got the full show with two carts and 3 dogs in town.
Steve, Janine and Mulligan II left us this morning to head home to New Plymouth for the festive season; I think it will be a while before we next meet up a they were discussing plans to head to the mainland. We went for a drive to Stratford following their departure to scope out our next intended location at the A & P showgrounds. Only one other occupant currently so it will be a quiet Christmas this year but lots more space for Mac and Rose and less traffic etc.