We are still here in the Coromandel with plans at this stage, North or South being the major decision and this is based on other factors, there is a potential 5th Wheel rally or fun up north with friends so the decision will be made when it is made lol. Very Freudian don't you think?
So what's new on Dogonit since last we blogged? Well we have a had a major break-through in regards to the gas/power consumption. As it is winter and we rely on gas and solar for our power we have been using the generator to top up. We are acutely aware that generators are viewed by some as an evil necessity and an anathema by others who complain but not to you. So, my cunningly clever spouse…….yes Rod (no surprises there) came up with a cunning and subtle plan, Blackadder-ish in description. If we cant use power 240 volts why can't we just use a battery charger to replenish the batteries and hey presto, abracadabra that is what we did.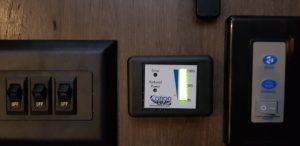 We have an almost continually full battery system so do not have ration power/gas as we had been doing. We have not started the generator for approximately 36 hours and have been using the washing machine, toaster, microwave, coffee machine etc trialing the power outage in an experimental phase (quite scientific). This adds to the quality of life and relaxation to say the least!!!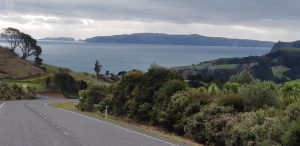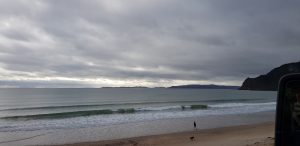 We did a trip to Whitianga during the week as a HIT (hazard identification trip) to check out whether we could comfortably take Dogonit over the hill and a stay at the Whitianga NZMCA. The decision was made to save this trip for summer particularly as the roads were wet and slippery and seeing the results of driver carelessness hanging over the broken barrier.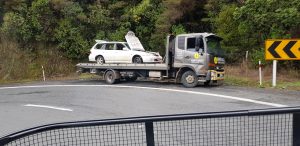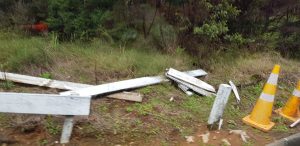 Lovely scenery met us and we did some shopping while there before cruising through town and finding a bakery for lunch before our return home.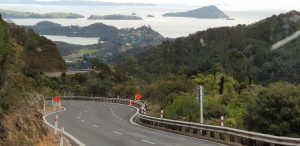 Our days are spent relaxing, walking the beach, and Rod did the hunter-gatherer thing by digging up cockles for fritters while I watched. I mean really guys, bending over, digging through bitterly cold sand for a meal, who does that anymore lol. My contribution was to make the fritters for my man.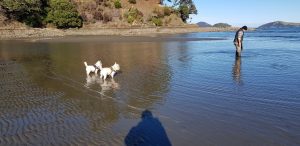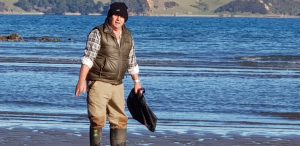 I have the washing machine down pat these days and find drying some of the clothes on the line during the finer weather works well. We have had loads of rain as has everyone else but it just means that we adapt to the environment for walking the dogs and toilet-time. Mac and Rose seem to be loving the life and meeting lots of other dogs around the camp.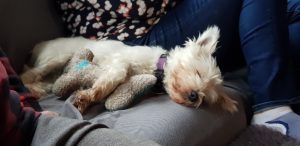 Had a great ride into town today in the sunshine and stopped at the Admiralty Pub having lunch in the garden bar. Really enjoyable and what great service!! Back home and off to get an ice-cream for dessert….YUM!!!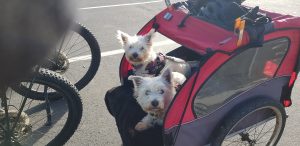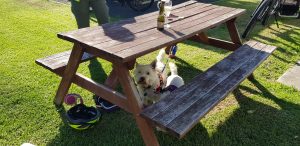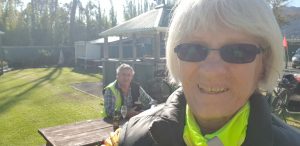 We do miss friends/family while on the road so it is wonderful to catch-up via messenger, phone-calls etc. We are expecting Steve and Janine back on Monday along with Gaylene and Selwyn so look forward to an enjoyable time next week.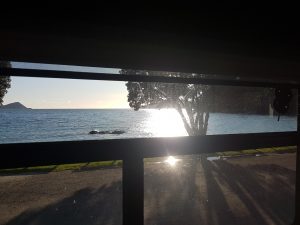 Not much other news, save to say I really enjoy Coromandel township and find the locals very friendly. I also can't fault Leanne and Des here at Long Bay Camp who have been the epitome of great hosts, signing off now, take care!!!