It seems we are destined to use Pukekohe as a maintenance/rebuilding destination….sigh.
We spread our wings on release from lockdown and headed to Taupo as soon as the doors to the rest of the world were opened, as excited as bees on a honey hunt in summer. Rather than meandering we journeyed directly to the National Equestrian Centre outside of Taupo which was the location for the long-awaited 5th Wheel Rally. We decided it was better to be early and set-up and where Steve and Janine staying so we could finally meet Mulligan the II. What a beautiful boy he is and so well-behaved for such a young puppy. The equestrian centre is a well set-up place; showers and toilets and lots of places to take the dogs on adventures!! Mac and Rose thoroughly enjoyed their forays, exploring the grounds, rolling in pony poo etc.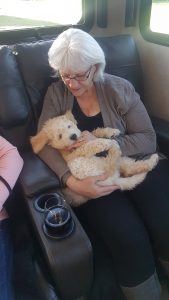 We did a bike ride with Janine and Steve and canine family to the Aratiatia Dam to watch them open the sluice gates and it was amazing to watch the incredible flow of water move from a trickle to a torrent down the stream.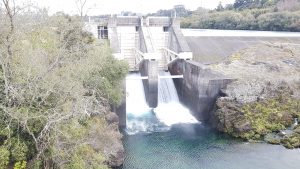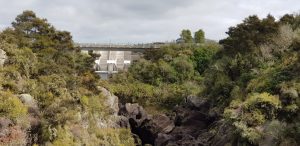 We then biked to the Lava Cafe for a coffee and to see the beautiful glass blowing ornaments (too pricey for our pockets) before heading home.
It was thoroughly enjoyable watching the horses performing in a dressage competition and the centre had the social distancing well in hand, we could not go past the fence while the equine folk were present and they couldn't access the grounds where the RV people were.
We watched all the 5th Wheel folk arrive for the rally over a couple of days and met a few of them before the rally started on the Friday.  You can then imagine how disappointed we felt when the Minister of Health announced that those Aucklanders who had travelled were prohibited from socialising with groups of more than 10 people. We posted a comment on the 5th Wheel Facebook page asking for comments knowing there were other Aucklanders attending and were sadly disappointed by the lack of comments (just one person); the only advice given was that we should check on the Covid-19 site and/or Healthline. I did both and they confirmed that we could not attend so we informed the group via Facebook. Our disappointment was exacerbated by the lack of response from the convenors and we spent the weekend feeling like we were in Coventry.
We stayed a few more days once the 5th Wheelers moved on just to shake off the disappointment and focused on the state of our sadly under-performing battery system which kept alarming issues in the system, meaning that we couldn't use some appliances without starting the generator. I guess there are times when buying cheaper lithium batteries from China isn't advantageous.
So, as already stated here, we journeyed back to Pukekohe, and it was lovely  to catch up with friends and Mac and Rose looked cute in their special backpacks compliments of Irene and Graeme who had also been on a journey.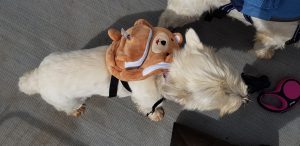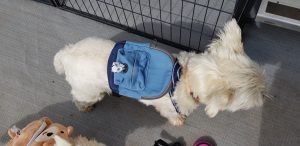 We had another wonderful visit with the Alexanders, they stayed for a relaxing weekend and we had an awesome dinner out at the Franklin Club. We really enjoy their visits!!
Rod has re-designed a system using bigger batteries and has already built the box which will house these monsters, as well as starting the cabling. The idea is that tomorrow all things willing, he will remove the failing system and install the replacement and hopefully we will be in full use of Dogonit again without always worrying about what the darn batteries are doing.
Then off we will go…………………….again, originally we were travelling to Ngongataha for the Rotorua Marathon as Wade was participating but Aucklanders were prohibited to run as they were only allowed to mix with a minimum of 10 people so we will still have the planned weekend, just somewhere different!!
UPDATE:
So, following long delays between chapters for this saga; Rod installed the new system and oh boy what a difference a day makes!! Our system is fully functioning and we have 'challenged' on several occasions to see what it can do/take. The other day I did two loads of washing and vaccumed using solar power only; no issues…..yay!!
We are now back where we started on this adventure here at the equine centre in Taupo and we love it!!!
There was a slight hiccup onroute to Taupo; we stopped for a break and pee stop and Rod did a recon of Dogonit to ensure all was ok, checking tires etc so imagine his horror when he noticed water dripping out the external grill of the fridge. On opening the grill he found a fan had fallen off something and so we were really anxious about what was wrong. With the inclement we waited a day before investigating both online for the design of the fridge and where the fan may have slipped off. Hmm there are only three fans on the fridge and they are all intact and the fridge is working as per and in accordance with…. we can only assume that a technician in the factory somewhere changed the fan and forgot to remove it lol.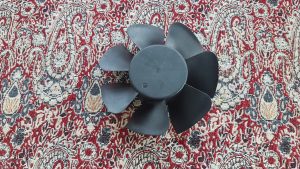 The first weekend we arrived Wade and Trish joined us as it was the weekend of the cancelled marathon and they stayed until Monday enjoying the sunshine and the showjumping that took place right in front of Dogonit. What a great day!!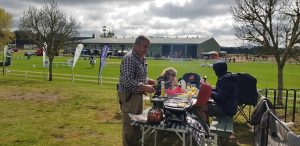 We decided it would be rude not to try out the Wairakei Terraces hot pools near by and man what a treat!! The water is silica based not sulphur which meant no smell and it is really good for the skin too. There were several pols to dip into ranging in temperature. The hottest pool was meant to be 40 degrees but when the pool man came by to retest, it was 41.3 and man was it noticeable but oh boy the joints felt amazing!! We will revisit this gem at another time possibly before we move on.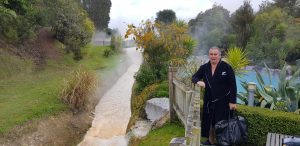 It is currently school holidays so the centre is full of pony club people and the children are benefiting from extra training and it is a joy to watch them interact with their ponies.
Mac and Rose love having their walks around the pavilion,  rolling in the grass, pony poo and as of this morning, flushing out and chasing possums….canine heaven.
So saga completed, this is what happens when you get lazy I guess…………………..