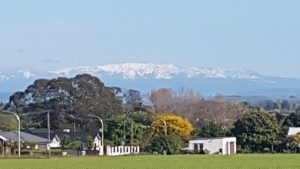 It seems a lot longer than the start of the month since we las posted on Dogonit but when I check it has really only been a just over a couple of week.
We have moved on since our last post; an uneventful journey towards the Hawkes Bay. We had intended to stop for a week at Glenn Falls but due to some paperwork requiring couriering we travelled directly to Havelock North and set up almost on our old site staying at the ex-POP/CAP that we stayed at for the last leg of our certification. It certainly felt like a home-coming with Liz and Graeme still encsconced in their caravan.
Sue and Bruce were out when we arrived and they joined us the next day, we had so much to catch up on and were enjoying their company so the visit was of a long duration full of laughter and ended with a happy hour.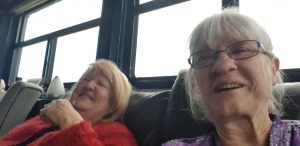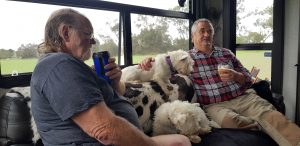 Mac and Rose are in doggy heaven with frequent visits to Pakowhai Park and it is a delight to watch them in the back of the truck as we go over the cattlestop which is a key indicator that we have ARRIVED!! Out with the stick and ball and off we go for a play and swim with numerous other canine visitors.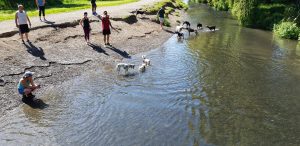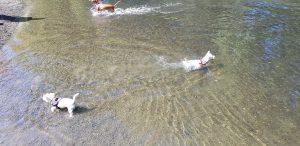 We have been able to accomplish lots of tasks here, including prescriptions, voting, and taking care of canine health (Mac and Rose required dental treatment; a scrape and polish, and their nails while they were under). We had taken them for their vaccinations to a vet in Pukekohe who advised getting them done and that Mac needed an xray on his leg to ensure there was no arthritis etc. The vet here is lovely but I have to say that Rose made her thoughts and feelings on being at the vets very clear; she trembled so hard I thought she might fall apart.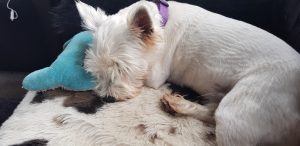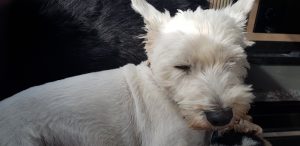 It's a strange day not having the furbabies around but we achieved lots of tasks before picking them up, teeth, xrays etc all complete. Mac got a clean bill of health for his leg which was good news. Mac and Rose then spent the rest of the day/evening ignoring us totally; particularly Rose who preferred being outside then being with Nanny and Poppy and did not come round till the following day.
We always have a drama or two as most of you know (we never walk a straight line lol), this trip's drama was discovered when Rod was wanting a long pair of pants. He pulled them out of his wardrobe and discovered the bottoms were soaking wet. We immediately thought it was the washer and the pipes might have loosened in travel but were soon able to put this concern to bed. The issue was the poor workmanship completed when the washer/drier were installed in the US and the drier vent was not waterproofed outside. The rain and wind had caused the water to seep up and into the vent. My fabulous handyman was able to repair the job and no harm, no foul. It just goes to show you should hold always use social media to advertise excellent repairmen and forget recommending the idiots.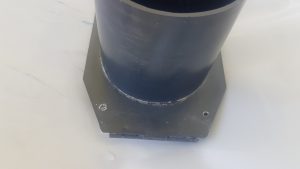 In support of US companies we cannot knock one without celebrating another. We have had issues with our Furrion oven, very temperamental getting to temperature without cutting out and sometimes difficult to start. We contacted Furrion and after a couple of tense days of no contact, we phoned them. The reason for the delay turned out to be due to the support tech discussing with the service tech about the best approach and the outcome was that they are sending us ALL spare parts for the oven free of charge to our US postal address for delivery. How's that for a great outcome, a win for the Bossons……Yay. THANKS FURRION, you are a legend!!!
We spent one afternoon having a quiet beer which turned into a drive-by wine stop when Bruce and Sue arrived back and it turned into dinner (these spontaneous visits are just the BEST!!)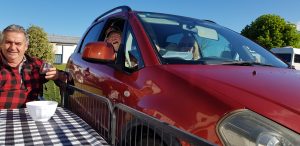 We are intending travelling on on Wednesday; just to the NZMCA Park in Napier so we can do some cycling around. We visited the park this week just to check out sites and boy has it grown from the last time we parked up so looking forward to a revisit.
Hope all is well in your lives and you are all safe in a Covid world especially since it is back on the North Shore; so covid trace and keep healthy!!