Another week gone and we are really enjoying being on the road again., still loving Long Bay Camp; the owners are just lovely and really welcoming.
We have made some new friends over this week; The first woman I met has a caravan here at the camp long-term and a little dog who just loved spending time with Mac and Rose. Talk about connections; both Charlene and her husband are ex-Navy although long past our time, but we shared some memories over fresh Anzac biscuits cooked on Dogonit. Her and her husband will be back in a few weeks and intend to take Rod fishing.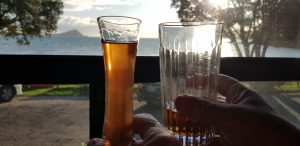 Our RV friends Steve and Janine realised we were staying in the same location as some of their friends and insisted they come by to introduce themselves which led (of course) to invitations to happy hours.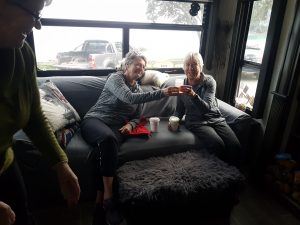 I love meeting new people and making friends but boy when you meet 7 or 8 people at a time it sure challenges the grey matter and I have to apologise for my lack of memory at times.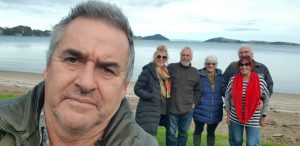 Mac and Rose have settled in and love spending time on the beach. They have also made new friends and it is lovely watching them hoon about playing together. There is a dog who spends a great deal of time on the beach, swimming and playing in the water for hours……crazy!!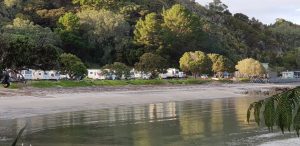 Over the last week we have indulged in fresh oysters still in their shells from Moana only a km or two from our location. We intend to indulge again when Wade and Trish join us for a weekend of fun and frolicking….hopefully lol; not sure what the weather will bring.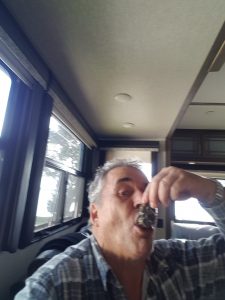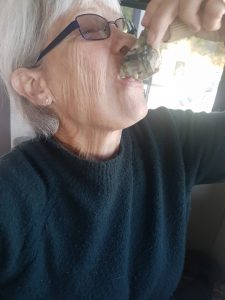 We took a trip to Port Jackson and beyond to Fletcher Bay with new friends Gaylene, Selwyn, Jackie and Bill. A convoy of two small 4WD and a big-assed truck!! With stops for photo opportunities we travelled the boondocks at times on very winding, narrow roads; a harrowing experience at times.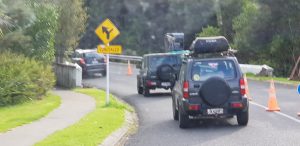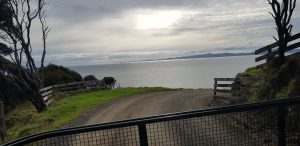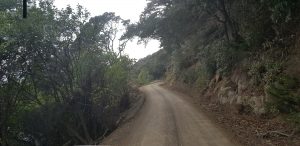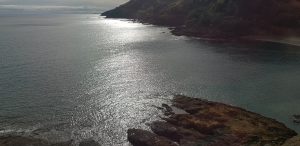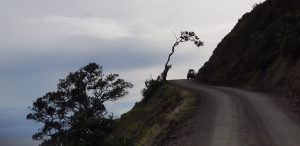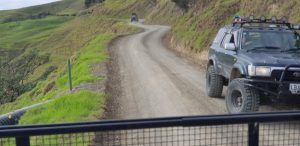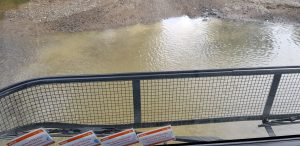 We spent time at Port Jackson admiring the views before making the decision to head further along the untravelled highway (well to us at least) and had a wonderful picnic at Fletcher Bay with wine and cake included.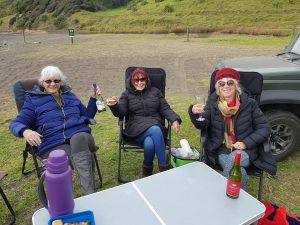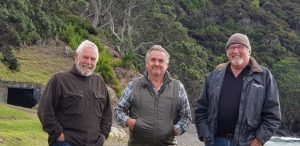 We used our hand-held radios on the way home with Rubber Ducky (Gaylene and Selwyn) taking the task of OSH officers, advising of hazards on the road to Big Rod (us). It made for a very entertaining trip home.
We have cycled into town a couple of times, much to the delight of some of the locals who love to see Mac and Rose in their carriage and they are happy to come say hello. So far we have been able to store our groceries in our bike bags and on Dogonit II without dramas and the trip is mostly flat; only about 3km into Coromandel township so we certainly aren't doing the hard yards.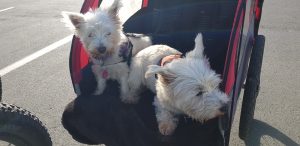 I am enjoying the luxury of a washing machine and so far have avoided having to use public facilities. We are managing with the combination of solar and generator although this doesn't always please other campers, enough said……. My little clothes line works for clothes, towels and Rod sets up a line for my sheets etc. Not finding the drier does an effective job, generator power=drying time.
We have begun to explore plans for next week but that is another episode in the life and times of Dogonit so I will sign off!!
Hope you are all well and Covid (Wuhan flu)-Free!!!