Well another week has passed living on our big beast and we have reached another milestone; the self-containment certificate has been issued both for the truck and Dogonit. The NZMCA certifier thought it prudent to check out the truck which is used to transport fresh and waste water to/from the dump station and issue it it's own sticker so no-one could challenge our right to use them.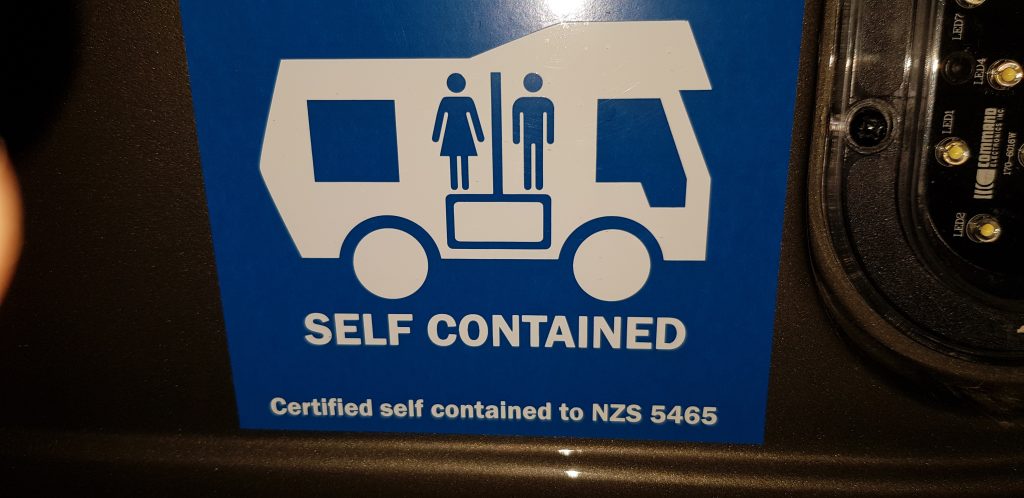 We have also spent the week achieving small gains as we blend into our environment; what worked on Dogonit the Mobile Home, doesn't always work on Dogonit the 5th Wheeler. Loving the luxury of space and comfort; a real toaster, reclining chairs, a laundry, my coffee maker etc. Definitely no hardship living on Dogonit!!
We joined up to to a US-based 3120 Facebook page & used some of the sage suggestions some of the old-timers posted but also taught them some Kiwi number 8 fencing wire strategies,  e.g, ensure clothing is kept from the centre in the wardrobe when travelling so the weight is evenly distributed. Hmmmm, says Donna…….how the heck!!??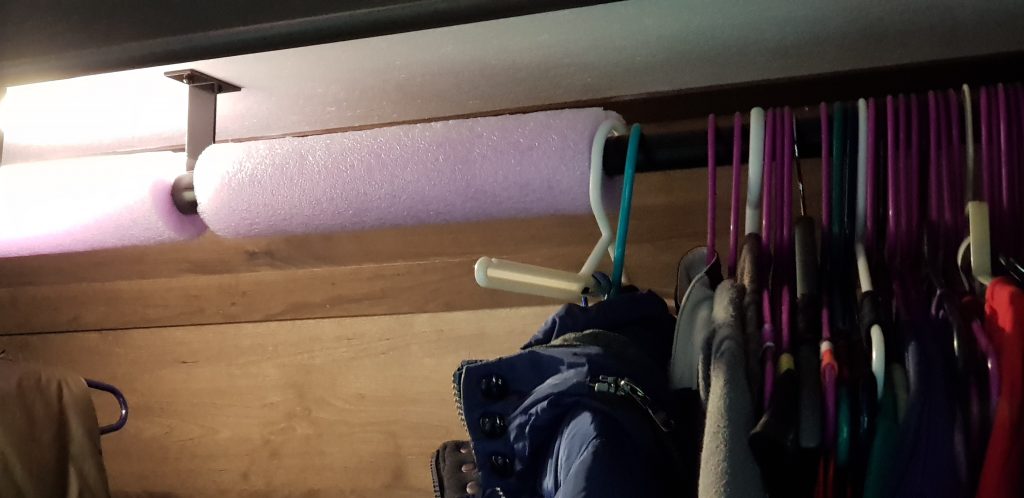 Aha, I thought, I just happen to have a pool noodle…….cut it in half, slice lengthways, and place on hanger rail and hey presto!!! It worked brilliantly on the trip from the farm to our present location between Hastings and Havelock North.
Mac and Rose appear to be enjoying themselves, with regular jaunts to Pakowhai Regional Park where they can be leash-free and chase balls, swim in the stream and interact with other dogs.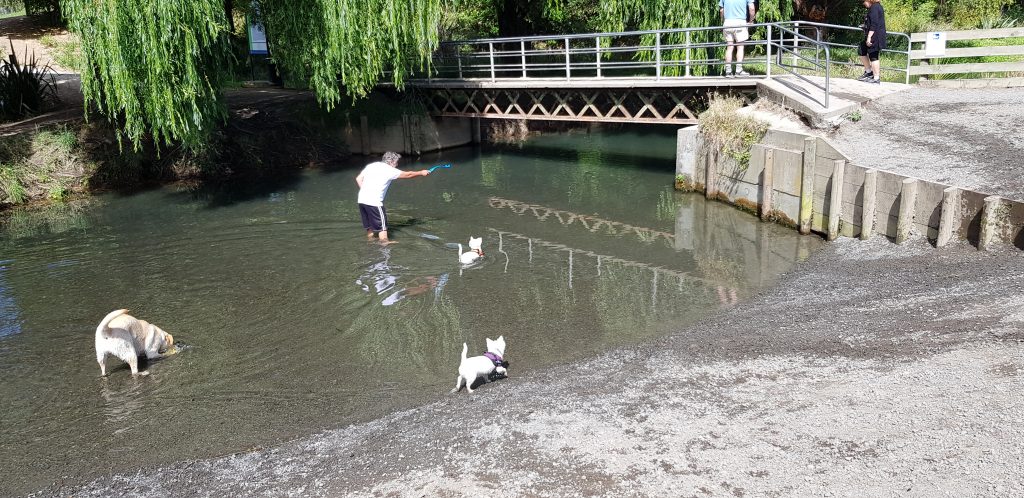 We have settled into the CAP (charges apply) and mingle with other residents (occasional happy hours); some of whom also have dogs which is great for Mac and Rose. They also have the advantage of being in an area where there are plenty of rabbits and often attempt to chase them. Thy have also found the warren and they check out the burrows each time they go out for toileting so it is Westie heaven for them.
Rod had a rushed trip to Auckland during the week, to transport the awnings which will be put on once we arrive back in the big smoke. We spent a great deal of time procrastinating whether to have them transported up by a freight company but in the end decided that if we took them up they would arrive at their destination and be safely in the garage. The amount of lost freight etc. in the last couple of months triggered our procrastination and it was a huge of relief to know they were at home.
Poor Mac has had a spell of ill health and we visited a lovely vet, Karen in Havelock North. He appears to be on the mend and is now on antibiotics.
We are nervously anticipating next week when we hopefully line up the brakes and the certification/registration but Mac, Rose and I may have to stay a couple of days with my friend Sue in Palmerston North (absolutely no hardship) which means I also get to catch up with other friends in Feilding, no hardship either lol, my win!!!!
Miss all of our friends and extended whanau but we need to start living our lives our way and we know you all support us to do just that!!!!